Canberra United can today confirm that the club and Michelle Heyman have parted ways ahead of the 2018/19 Westfield W-League season.
The Matildas striker and all-time Westfield W-League top scorer departs the club after eight excellent seasons, in which she established herself as one of the leading strikers in world football.
Since arriving ahead of season three of the Westfield W-League, Heyman has made 93 appearances for United, including her 100th career appearance last season against the Western Sydney Wanderers at McKellar Park.
She scored 51 goals in her time in Green and netted 15 of those on her way to the Westfield W-League Golden Boot in season four.
Heyman won three Westfield W-League Premierships (11/12, 13/14, 16/17) and two Championships (11/12, 14') in her time in Canberra, and was a role model for plenty of young footballers, both boys and girls.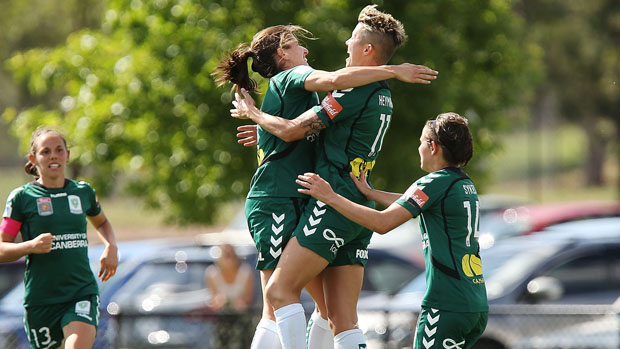 Heyman expressed her thanks to the club and city, and had some parting words for the Canberra United fanbase.
"I am leaving Canberra United with an extremely heavy heart," she said.
"The city and the club have been my home for so long and I will forever be in debt for both of these for shaping me as a player and also as a person."
"I would especially like to thank Heather Reid for her tireless work both for Canberra United but also for women in sport more broadly. I want to also thank the amazing CU supporters – they made me feel so welcomed and loved.
"Playing at McKellar Park with the sun on my back in front of our loyal fans was always my happy place – it will be hard to do it in different colours however I hope you understand my decision to leave.
"To all of the other teammates and coaches over the journey, I thank you and I promise I will never forget you."
Head Coach Heather Garriock wished Heyman the best moving forward and congratulated her on her career so far.
"I'd like to wish Michelle all the best moving forward in her career," Garriock said.
"Her achievements speak volumes about her as a footballer, with over 100 games and over 50 goals."
Canberra United thanks Michelle for her time at the club and wishes her the best of luck going forward in her football career.
"Michelle has been a fantastic ambassador for football in Canberra," said CEO Phil Brown.
"Michelle was always available for community engagements and had a natural ability to genuinely connect with our fans, especially the young players who looked up to her as a role model."
Michelle Heyman with Canberra United |
93 Westfield W-League appearances
51 Westfield W-League goals
Three Premierships (11/12, 13/14, 16/17)
Two Championships (11/12, 14')