Ahead of our road trip to face Adelaide this Sunday (22 December), we take a look back at our past three clashes with the side from South Australia.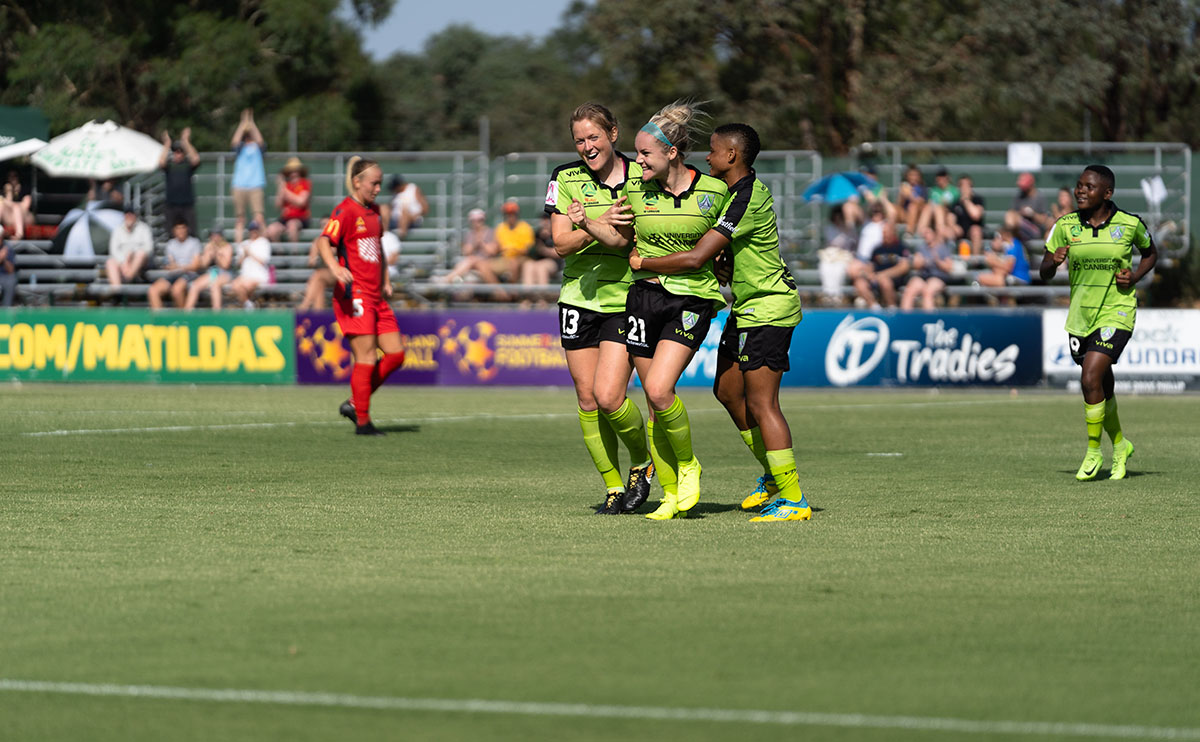 Westfield W-League 2018/19 Round 11 | Canberra United 1 def. Adelaide United 0 @ McKellar Park, Canberra
A solo strike from former Canberra star Ellie Carpenter was the only difference between the two sides in our most recent clash in Round 11 last season.
The hosts had the better of the first-half chances, but were unable to break the deadlock until Carpenters 59th minute goal.
Some lovely build up play from Canberra ended with a Meg McElligott shot being blocked, but Carpenter, who had sprinted up the field from defence, was on hand to fire the rebound into the back of the net.
The visitors threw everything they had at the Canberra defence in the dying stages of the match, but two brilliant saves from goalkeeper Sham Khamis ensured Canberra secured all three points.
Westfield W-League 2018/19 Round 4 | Adelaide United 2 def. Canberra United 0 @ Coopers Stadium, Adelaide
Adelaide's goal scoring ace Veronica Latsko put on a show in this early season clash, as Adelaide recorded a comfortable 2-0 victory over Heather Garriock's side.
Latsko put the hosts ahead in the 27th minute with an ugly but effective finish, tapping a low cross over the goal line with her shin.
The American striker was involved in Adelaide's second goal four minutes from full time, with her shot forcing a sharp save from Sham Khamis, only for the save to ricochet off Canberra defender Natasha Prior and into the back of the net.
One bright spot for Canberra was a save made by Khamis early in the second half, with the reliable keeper diving full length to her right to deny a full-blooded header from Michelle Heyman.
Westfield W-League 2017/18 Round 10 | Canberra United 6 def. Adelaide United 1 @ McKellar Park, Canberra
Canberra's 6-1 win over Adelaide in Season 10 is the equal biggest victory in the club's history, and was highlighted by a hat-trick to Norwegian star Elise Thorsnes.
With the match in the balance at 1-1, Thorsnes caught fire and netted three goals either side of half time to blow the game open for Canberra.
But the Norwegian wasn't the only one to hit the score sheet that day, with goals from Ash Sykes and young guns Ellie Carpenter and Karly Roestbakken helping to round out the 6-1 score line.
The win sparked a late season run for United, before losses in the final two games saw them finish the season in fifth spot.