Canberra United has the chance to finish the 2019/20 Westfield W-League season with a statement when they travel to Brisbane to take on fifth-placed Roar on Sunday afternoon (23 February).
United snapped a four-game losing streak with an emphatic 3-1 win over Adelaide United last Sunday and have the chance to put a nail in Roar's top-four hopes with all three points.
It will also be the final game in charge for coach Heather Garriock, which will give even more motivation for United to put on a strong performance at Lions FC Stadium.
Brisbane Roar are still smarting from their tough 4-2 loss to Perth Glory away from home, as the side failed to close the gap on the top four. Three points separates Roar and a spot in the finals, with a final round clash against Premiers Melbourne City in the last round.
Canberra and Brisbane met earlier this season in Round 4, where Roar grabbed a win on the road thanks to goals from Tameka Yallop and Hayley Raso. Both goalscorers will not play this Sunday, as Yallop battles a strain and Raso now an Everton Blue.
This match looks destined to be a fiery one with plenty of goals so don't miss any of the action.
Thoughts from coach Heather Garriock |
"We haven't won two in a row this season so that is our goal going into a tough away game against Brisbane. We need to focus on our transition moments and our defence. I think if we lock up the midfield, especially with the quality of Brisbane's midfield, we will have a chance.
"The morale in the squad has been excellent and everybody is upbeat and looking forward to the game."
Squads |
Canberra United squad: 1.Annalee GROVE (gk), 2.Laura HUGHES, 3.Kaleigh KURTZ, 4.Jessie RASSCHAERT, 5.Nikola ORGILL, 6.Emma STANBURY, 7.Simone CHARLEY, 8.Olivia PRICE, 11.Elise THORSNES, 12.Hayley TAYLOR-YOUNG, 16.Karly ROESTBAKKEN (C), 17.Patricia CHARALAMBOUS, 18.Taren KING, 19.Leena KHAMIS, 20.Shamiran KHAMIS (gk), 21.Rebekah HORSEY.
**one to be omitted**
Ins: 17.Patricia CHARALAMBOUS (promoted), 21.Rebekah HORSEY (promoted)
Outs: 25.Rachael Goldstein (omitted)
Unavailable: 10.Camila PEREIRA (ankle, tbc)
Brisbane Roar FC squad: 1.Mackenzie ARNOLD (gk), 2.Carson PICKETT, 3.Celeste BOUREILLE, 4.Clare POLKINGHORNE (c), 5.Shea CONNORS, 6.Elise KELLOND-KNIGHT, 7.Indiah-Paige RILEY, 8.Kaitlyn TORPEY, 9.Rylee BAISDEN, 10.Katrina GORRY, 11.Natalie TATHEM, 15.Claire FARRINGTON, 18.Leah DAVIDSON, 19.Hollie PALMER, 20.Georgina WORTH (gk), 21.Winonah HEATLEY, 23.Isobel DALTON
**two to be omitted**
Ins: 8.Kaitlyn TORPEY (promoted), 9.Rylee BAISDEN (promoted), 10.Katrina GORRY (returns from suspension), 15.Claire FARRINGTON (promoted)
Outs: 13.Tameka YALLOP (strain – tbc), 22.Anna MARGRAF (omitted)
Unavailable: Nil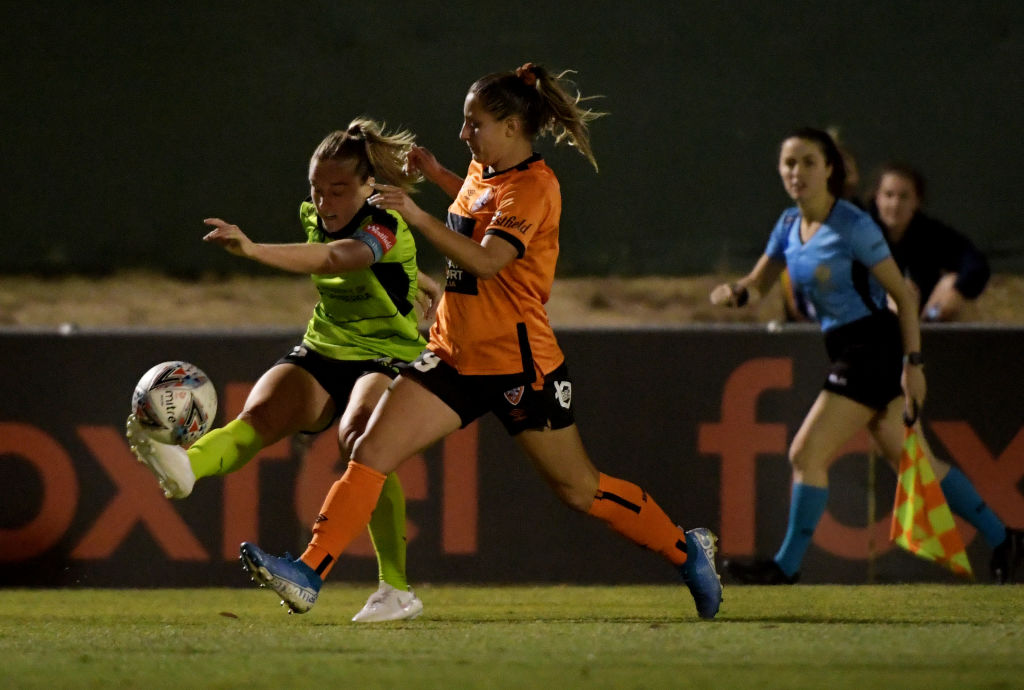 Westfield W-League R13 | Brisbane Roar vs Canberra United
Lions Stadium, Brisbane
Kick-Off: 5:30pm (AEDT)
Watch live on FoxSports, Kayo and on the MyFootball Live App or follow the match on Twitter using #BRIvCBR & #WLeague.