Key Info |
Canberra United has a six-day turnaround from their Round 2 heartbreak against Melbourne City, after a late Emily van Egmond penalty snatched all three points at McKellar Park.
Despite walking away with no points from the game, Heather Garriock's side held their own against the star-studded outfit.
United now travel up the highway for their first road trip of the season against the Newcastle Jets, who will also be looking to bounce back from a defeat last round.
The Jets are still searching for their first win of the campaign after they were edged out by the Western Sydney Wanderers 1-0 last weekend.
United has lost the last two encounters against the Jets, including a 1-0 loss last season after a first-half screamer from Cortnee Vine.
Playing for Newcastle that night was Katie Stengel, who has now swapped the red and blue of the Jets for the green of Canberra. Stengel scored her first goal for her new club last round against City, but won't feature against her former club after spraining her ankle during training this week.
United will be bolstered though by the arrival of Norwegian Elise Thorsnes, who landed in Canberra on Wednesday. Thorsnes has played 121 games for her country, and scored 10 goals in 21 games this season as LSK Kvinner took out the Toppserien League championship.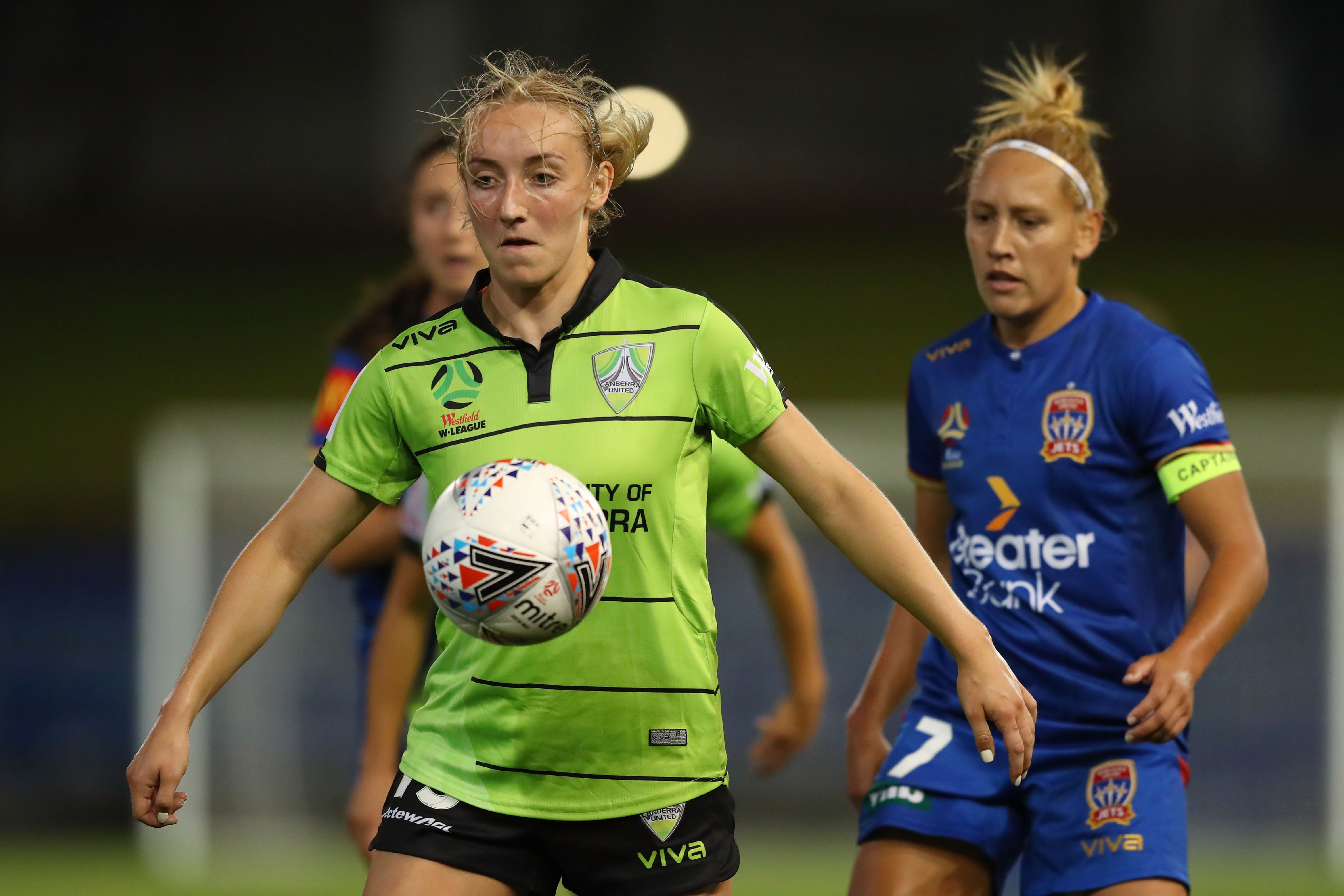 Another familiar face that swapped teams during the off-season is former United winger Nikki Flannery, who has now started life as a Newcastle Jet.
Both teams will be desperate to get the three points in what is a crucial early season game.
The Westfield W-League match will be followed by the Hyundai A-League clash between the Newcastle Jets and Western Sydney Wanderers at 7:30pm. The Jets have slashed all their ticket prices by 20 per cent, while all kids go free to the doubleheader.
Want to see our team in action against the Jets? Click HERE to purchase your tickets.
Thoughts from our coach |
"It is really important to get a win this week but Newcastle is tough. They have had a few tight results, especially against Western Sydney last week. We know what a Craig Deans side is like – they are defensively disciplined and they will be hard to break down."
"I think Newcastle will look to frustrate us but in saying that, we have some star players and Elise Thorsnes is in the team this week. She arrives in Canberra after scoring a goal in the Norwegian cup final last weekend. Her confidence is only going to breed more confidence into our squad."
Squads |
Newcastle Jets Squad: 2.Hannah BREWER, 6.Cassidy DAVIS, 7.Gema SIMON, 9.Tara ANDREWS, 10.Libby COPUS-BROWN, 11.Pana PETRATOS, 12.Tessa TAMPLIN, 13.Lauren ALLAN, 17.Jenna KINGSLEY, 18.Clare WHEELER, 19.Nicki FLANNERY, 20.Claire COELHO (gk), 25.Teigan COLLISTER, 30.Nicole SIMONSEN (gk), 31.Paige KINGSTON-HOGG
Ins: Nil
Outs: Nil
Unavailable: 4.Annabel MARTIN (knee – 1-2 weeks), 8.Sophie NENADOVIC (ankle – 4-6 weeks), 14.Renee POUNTNEY (foot – 1-2 weeks)
Canberra United Squad: 1.Annalee GROVE (gk), 2.Laura HUGHES, 3.Kaleigh KURTZ, 5.Nikola ORGILL (c), 6.Emma STANBURY, 7.Simone CHARLEY, 8.Olivia PRICE, 10.Camila PEREIRA, 11.Elise THORSNES, 12.Hayley TAYLOR-YOUNG, 15.Ashlie CROFTS, 16.Karly ROESTBAKKEN, 19.Leena KHAMIS, 20.Shamiran KHAMIS (gk), 21.Rebekah HORSEY, 23.Lauren KEIR **one to be omitted**
Ins: 6.Emma STANBURY (promoted), 11.Elise THORSNES (promoted), 12.Hayley TAYLOR-YOUNG (promoted), 23.Lauren KEIR (promoted)
Outs: 4.Jessie RASSCHAERT (not selected), 9.Katie STENGEL (ankle, 1 week), 18.Taren KING (not selected)
Unavailable: Nil
Match details |
Newcastle Jets v Canberra United
4:30pm Saturday 30 November
McDonald Jones Stadium
Gates open at 4pm
Live coverage on FOX SPORTS (www.foxsports.com.au) and Kayo Sports (www.kayosports.com.au)
Follow the match on Twitter using #WLeague #NEWvCBR