Key Info |
Canberra United will embark on their longest road trip of the season when they travel to Perth to take on the Glory in Round 6 of the Westfield W-League.
The match is a crucial encounter for both teams, with United looking to keep pace with the competition front runners and Perth eager to pick up their first points of the season.
Canberra beat Perth 2-0 when they met at McKellar Park in Round 1, with United debutant Simone Charley netting two goals to become an instant star in the nation's capital.
But Heather Garriock's side can expect a tougher test when they meet Perth this Friday night, with the Glory adding a number of international players to their roster since our Round 1 clash.
One of those internationals is versatile Spaniard Celia Jimenez Delgado, who has notched 23 caps for the Spanish Women's National Team and scored a stunning goal in her Glory debut against the Newcastle Jets last week.
United boast some big international names themselves, with Norwegian international Elise Thorsnes having scored two goals in as many games and Charley currently sitting third on the Westfield W-League goal scoring leaderboard.
After securing their first road victory in over two years earlier this season, United now have their sights set on ending their west coast hoodoo.
Canberra hasn't won in Perth since 2016, but another road win here would be a huge boost to United's finals aspirations.
Thoughts from our coach |
On this week's clash…
"Perth are going to be vastly different to what we faced in Round 1. Their internationals are in and they've had some more time to gel together, so it's going to be a really tough game. It's tough going to Perth and the last thing you want to do is come back on a long flight with no points, so three points is the priority."
On our squad…
"The most important thing is belief. We all believe in each other and we know that we can execute our game plan for the full 90. The beauty of this squad is that competition for spots is high, the training intensity is high and it's such a healthy competition which is great."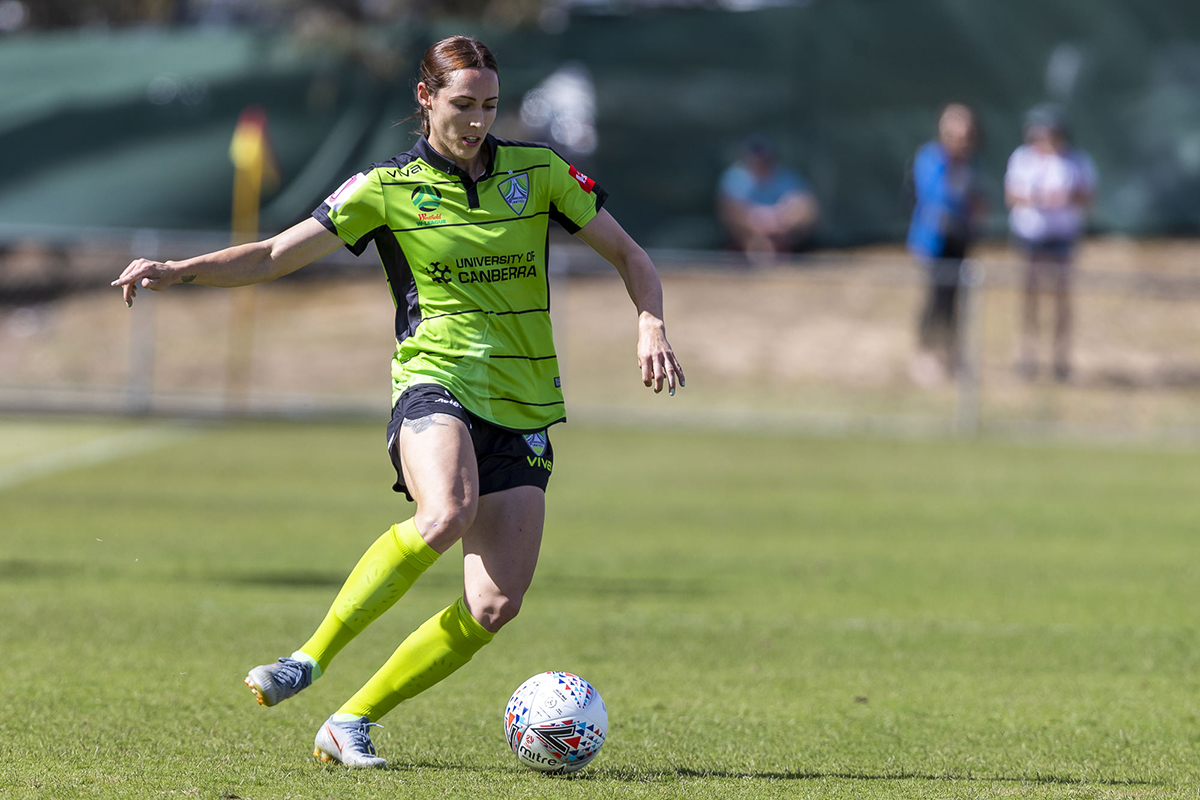 Squads |
Perth Glory Squad: 1.Eliza CAMPBELL (gk), 2.Sarah CARROLL, 3.Kim CARROLL, 4.Ayesha NORRIE, 5.Shannon MAY, 6.Arianna ROMERO, 7.CELIA, 8.Morgan ANDREWS, 9.Crystal THOMAS, 10.Julia SARDO, 11.Leticia MCKENNA, 12.Jenna ONIONS, 14.Caitlin DOEGLAS, 19.Hana LOWRY, 21.Morgan AQUINO (gk), 24.Natasha RIGBY (c), 28.Katarina JUKIC ** two to be omitted**
Ins: 2.Sarah CARROLL (returns from injury), 3.Kim CARROLL (returns from injury)
Outs: Nil
Unavailable: Nil
Canberra United Squad: 1.Annalee GROVE (gk), 2.Laura HUGHES, 3.Kaleigh KURTZ, 4. Jessie RASSCHAERT 5.Nikola ORGILL (c), 6.Emma STANBURY, 7.Simone CHARLEY, 8.Olivia PRICE, 9.Katie STENGEL, 10.Camila PEREIRA, 11.Elise THORSNES, 12.Hayley TAYLOR-YOUNG, 16.Karly ROESTBAKKEN, 17. Patricia CHARALAMBOUS, 19.Leena KHAMIS, 20.Shamiran KHAMIS (gk) **one to be omitted**
Ins: 2. Laura HUGHES (promoted), 4. Jessie RASSCHAERT (promoted), 12.Hayley TAYLOR-YOUNG (promoted), 17. Patricia CHARALAMBOUS (promoted)
Outs: 15. Ashlie CROFTS (not selected), 18. Taren KING (not selected), 21.Rebekah HORSEY (not selected)
Unavailable: Nil
Match details |
Perth Glory v Canberra United
Friday 13 December – Kick off 7:15pm (Local), 10:15pm (AEDT)
Dorrien Gardens
Live coverage on FOX SPORTS (www.foxsports.com.au) and Kayo Sports (www.kayosports.com.au)
Follow the match on Twitter using #WLeague #PERvCBR