It was another Canberra encounter that had it all.
After having an early lead, Canberra found themselves 3-1 down against Perth Glory at Viking Park, but two goals in the final 12 minutes of the game gave United another comeback story this season.
Unfortunately, a positive first-half didn't lead to Canberra being up at the break due to a late goal by the Glory after Canberra had taken the lead in the opening exchanges.
It was United who struck first when Allira Toby was hacked down after she ran through the Perth Glory backline. Grace Maher calmly converted the penalty, scoring to the keeper's left.
An on fire Chelsee Washington nearly doubled the lead 15 minutes later after a hopeful shot from outside the box just sailed over the bar.
Canberra's defense was resolute for most of the half but Perth did hit back just before half-time. They stole the ball from a goal kick before the ball eventually found its way to Cyera Hinten who turned brilliantly to smash the ball right into the corner.
United would have found themselves behind at the break if it wasn't for a Keeley Richards save when Perth were put through one on one. 
More misfortune would come Canberra's way after a clearance hit a United player and bounced straight into the path of Hinten who scored her second of the game, and gave Perth a two goal lead.
A great moment for the fans and team mates at Viking Park when with 15 minutes to go, 17 year-old Chloe Lincoln came on for her debut replacing Richards in goal.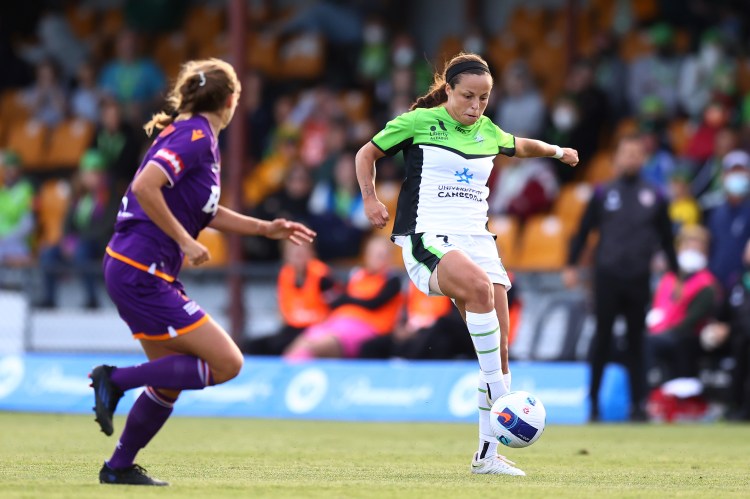 The home side were not going to just give in, and their fight back started in the 78th minute when Chelsee Washington came barraging in from a corner to head home United's second goal of the day.
The heart of the team was shown once again, when they completed another comeback. For the tying goal it was Ally Haran who headed the ball across the face of goal where Lauren Keir was on hand to tap in.
Both teams searched once more for the goal that would surely win it but it wasn't to be for either team as the referee blew the whistle on an entertaining 3-3 draw.