Canberra United battled back to draw with the Brisbane Roar in an action packed contest at Viking Park with goals to Captain Michelle Heyman, Grace Maher and Holly Caspers.
Two goals down with 5 minutes to play, United pulled off a dramatic last minute effort in a Christmas miracle to get their first point of the season in front of the Canberra faithful.
The home team dominated the majority of the first half, but somehow found themselves down at the half-time break.
It was Canberra who started stronger, and they were rewarded with a goal on the 10th minute. Allira Toby snatched the ball from the opposition defense before putting in a wonderful cross which found Michelle Heyman who finished first time on her left foot. 
Toby was causing havoc in the opening 45 minutes for the Brisbane Roar defense. She nearly had her second assist in the game after she skipped by a couple of defenders on the right hand side before putting in an inviting cross that just couldn't find the head of a Canberra forward.
The Canberra pair that combined for their only goal against Adelaide twelve days ago, nearly combined for another one today. Chelsee Washington threaded the ball through to Heyman who tried to lob the keeper. Unfortunately for the Viking Park fans, she just couldn't get enough contact on it.
All of Canberra's good work in the opening part of the game came to a half after a Karly Roestabakken back pass took a bobble that threw off Keely Richards, as the ball rolled into the net for the equalizer.
United nearly grabbed the lead right back, after Washington won the ball in the midfield and found Heyman who slipped the ball through to a surging Toby. Although the forward's stab at the ball could only find the post as the Roar defenders cleared it.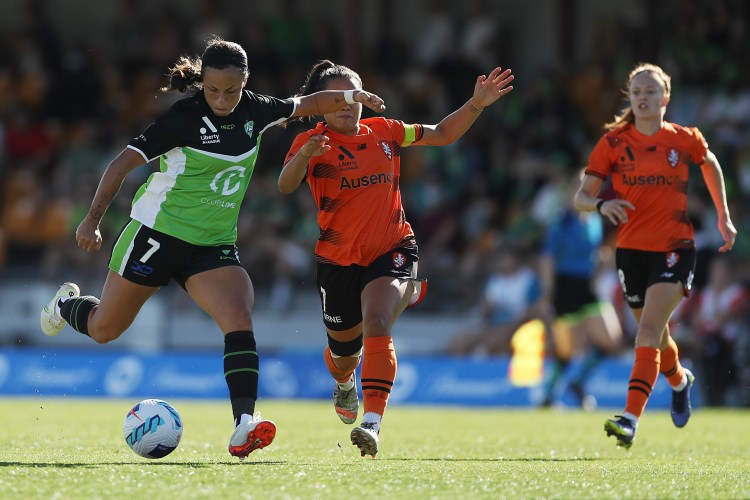 With under 10 minutes left of the half, the Brisbane Roar found the lead with a quick counter attack. The original shot was saved by a diving Richards, but the ball fell right back into the path of Shea Conners, who just couldn't miss from a few meters out.
Canberra came out of half-time searching for the goal to level the game, but it was Brisbane who grabbed the first goal of the second half through Anna Margraf's deflected effort.
In the final 25 minutes of the game, Canberra pushed hard to get back into the contest. Grace Maher was able to get a goal back with a curling free-kick in the 87th minute.
Then when all looked lost, and with the clock winding down in injury time, Grace Maher put in a low driving cross that was heroically tapped in by substitute Holly Caspers to capture a draw in a thrilling 3-3 game, the forward getting her first Liberty A-League goal in front of almost 1,000 Canberra fans.