Canberra United stars Karly Roestbakken and Annalee Grove have earned selection in the Westfield Young Matildas squad for the upcoming AFC U-19 Women's Championship in Chonburi, Thailand.
Both players have already signed with Canberra United for Season 12 of the Westfield W-League, with Roestbakken preparing for her fourth campaign in green and Grove joining the club from the Brisbane Roar.
Canberra United Head Coach Heather Garriock says she is looking forward to watching Roestbakken and Grove showcase their talent on the international stage.
"I'm absolutely delighted for Karly and Annie on their selection in the Westfield Young Matildas squad," Garriock said.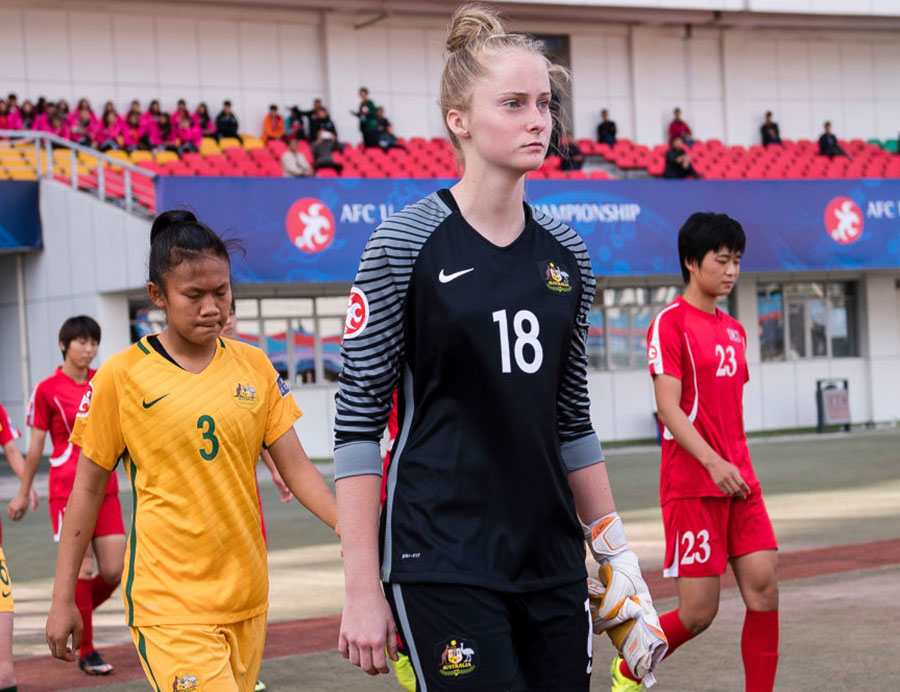 "Karly is obviously a fantastic role model, having come through the Canberra United pathway programs, and her development as a player and leader over the last 12-months has been remarkable.
"While Annie is one of the best young goalkeepers in the country and her time with the Young Matildas will certainly benefit her as we approach the start of the Westfield W-League season."
The Westfield Young Matildas 23-player squad will depart for Thailand next week, before kicking-off their tournament against DPR Korea on October 27.
Australia will also face Vietnam and hosts Thailand in their other Group A matches.
The top three sides at the tournament will earn one of Asia's qualification slots at the 2020 FIFA U-20 Women's World Cup, and Head Coach Leah Blayney says her squad is capable of achieving just that.

"We believe that with the squad we have going into this tournament, we are a strong chance of earning Australia qualification for the FIFA U-20 Women's World Cup for the first time since 2006," Blayney said.
"Many of the players in the squad have had significant Westfield W-League exposure across the nation, while players such as Karly Roestbakken, Mary Fowler, Kyra Cooney-Cross, Princess Ibini, Rachel Lowe and Courtney Nevin have had varying levels of exposure to the senior Matildas' set-up too."
The squad will convene for a brief camp in Sydney before travelling to Thailand on October 21, with the AFC U-19 Women's Championship commencing on October 27.
Westfield Young Matildas 23-Player Squad | 2019 AFC U-19 Women's Championship | Chonburi, Thailand
Morgan AQUINO (Gk)
Chelsea BLISSETT
Kyra COONEY-CROSS
Deborah DE LA HARPE
Shadeene EVANS
Ciara FOWLER
Mary FOWLER
Charlotte GRANT
Abbey GREEN
Annie GROVE (Gk)
Emily HODGSON
Angelique HRISTODOULOU
Princess IBINI
Aideen KEANE
Rachel LOWE
Claudia MIHOCIC
Teressa MORRISSEY (Gk)
Courtney NEVIN
Hollie PALMER
Susan PHONSONGKHAM
Indiah-Paige RILEY
Karly ROESTBAKKEN
Tessa TAMPLIN
Westfield Young Matildas – Group matches |
Australia v DPR Korea
Date: Sunday, 27 October 2019
Location: IPE Stadium, Chonburi, Thailand
Kick-off: 4.00pm (local); 8.00pm (AEDT)
Australia v Thailand
Date: Wednesday, 30 October 2019
Location: Chonburi Stadium, Chonburi, Thailand
Kick-off: 7.00pm (local); 11.00pm (AEDT)
Australia v Vietnam
Date: Saturday, 2 November 2019
Location: IPE Chonburi Stadium, Chonburi, Thailand
Kick-off: 4.00pm (local); 8.00pm (AEDT)