Sixth-placed Canberra United are on the road to Melbourne this week where they will take on the top-of-the-table Melbourne City at ABD Stadium on Thursday night.
The last time these teams played each other, Melbourne City stole all three points at the death after Emily van Egmond converted a penalty in the 93rd minute. Despite the 2-1 loss, United took confidence from the result as they were unlucky not to walk away with a share of the points against a side that comprises of six Westfield Matildas.
Since their round two encounter against United at McKellar Park, Rado Vidosic's team have gone on a five-match winning streak, defeating Brisbane Roar, Perth Glory, Melbourne Victory, Sydney FC and Adelaide. More impressively, the side has only conceded one goal during that run.
Meanwhile, it has been two weeks since United's last outing, which was a humbling 4-0 loss to the impressive Western Sydney Wanderers. Canberra's round eight match against Sydney FC was postponed due to poor air quality in the nation's capital but the team used the opportunity to head to Sydney for a team camp and bonding weekend. Coach Heather Garriock is hoping the time away has galvanized the group and has prepared them for a push back into the top four.
Key Matchup – Karly Roestbakken vs Ellie Carpenter
This Matilda vs Matilda contest is destined to be a mouth-watering matchup at ABD Stadium. Former teammates at Canberra United for several seasons, the duo went head-to-head in round two this season as Garriock tasked Roestbakken to keep Carpenter quiet. It was an enthralling battle as the two superstars counterbalanced each other and flew into every contest.
Look out for the two stars to clash on the pitch on Thursday night!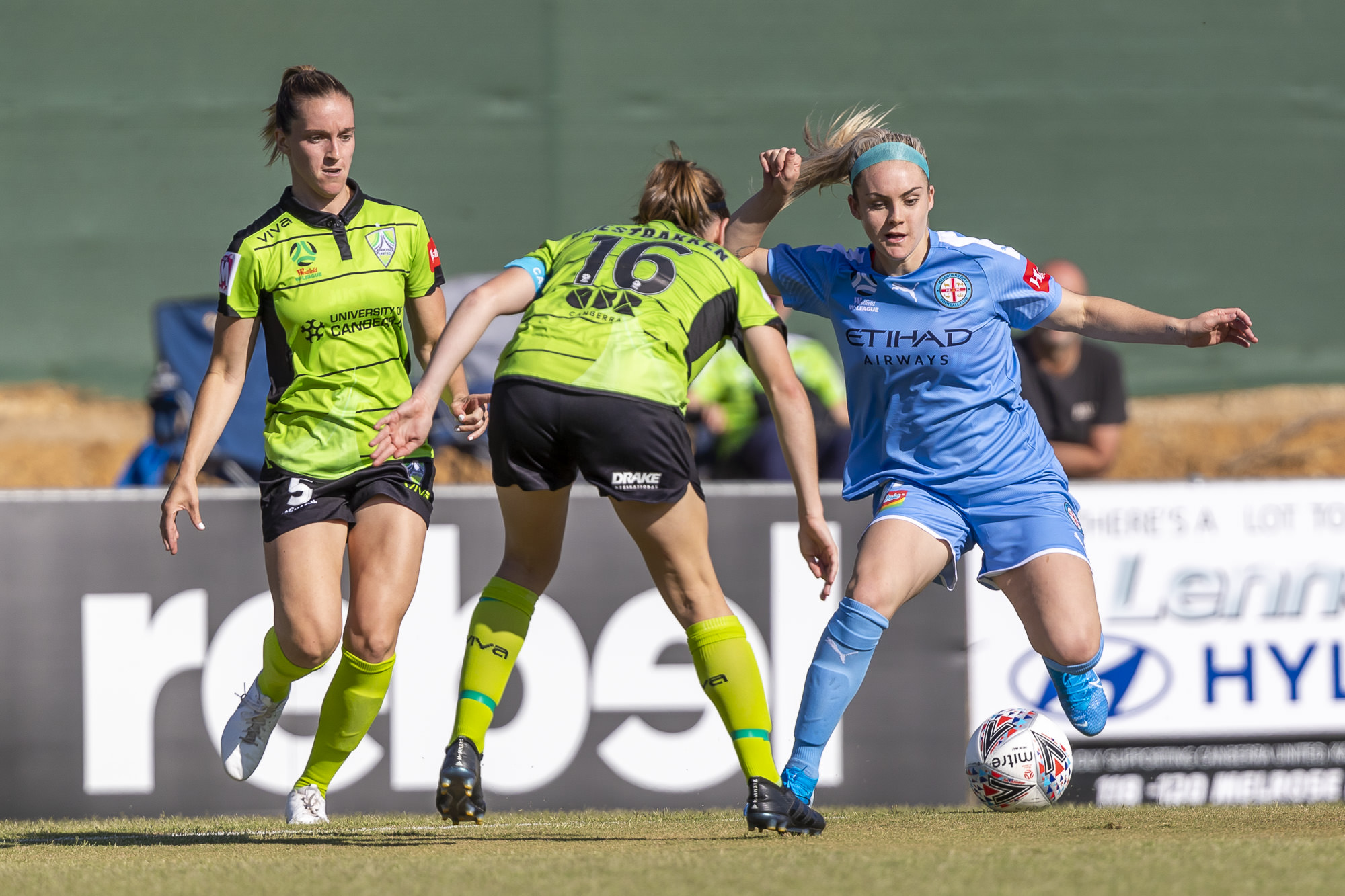 Thoughts from co-captain Karly Roestbakken |
"Melbourne City is a strong team and they have some big names. They are a very possession-based team and they are going to try to outplay us by keeping the ball for long periods of time. We just need to be compact and shut them down quickly.
"They have gotten better as the season has gone on so it is going to be a tough game on Thursday but I think it will be exciting. We are ready for it."
Squads |
Canberra United Squad:
1.Annalee GROVE (gk), 2.Laura HUGHES, 3.Kaleigh KURTZ, 5.Nikola ORGILL (c), 7.Simone CHARLEY, 8.Olivia PRICE, 10.Camila PEREIRA, 11.Elise THORSNES, 12.Hayley TAYLOR-YOUNG, 15. Ashlie CROFTS, 16.Karly ROESTBAKKEN, 17. Patricia CHARALAMBOUS, 19.Leena KHAMIS, 20.Shamiran KHAMIS (gk), 21.Rebekah HORSEY, 23. Lauren KEIR, 24. Aoife COLVILL.
**two to be omitted**
Melbourne City FC Squad:
1.Lydia WILLIAMS (gk), 2.Yukari KINGA, 3.Lauren BARNES, 4.Chelsea BLISSETT, 6.Aivi LUIK, 7.Steph CATLEY (c), 8.Nia STAMATOPOULOS, 9.Claire EMSLIE, 10.Emily VAN EGMOND, 11.Rhali DOBSON, 13.Rebekah STOTT, 15.Emma CHECKER, 17.Kyah SIMON, 19.Tyla-Jay VLAJNIC, 20.Milica MIJATOVIC, 21.Ellie CARPENTER, 23.Melissa HUDSON
**two to be omitted**
Match details | Westfield W-League Round Nine
Melbourne City vs Canberra United
Kickoff 7:30pm AEDT on 9 January 2020
ABD Stadium, Melbourne
Live coverage on FOX SPORTS, Kayo Sports and the MyFootball Live App.
Follow the match on Twitter using #MCYvCBR #WLeague